Summer 2021/22 Entry Forms - Closing date extended to 3rd September
Posted by Waverley Tennis on 16 August 2021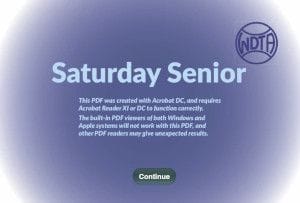 The Entry Forms for the Summer 2021/22 season have been uploaded to the Association Forms page.
The Team Entry Instruction Sheet, available on this page, will guide you through the necessary steps to submit the Entry Forms.
Entries close Friday 3rd September, 2021.
(Please note that late entries may be accepted, but that the section requested may not be available.)
The following email will be sent to all affiliates today (Monday 16th August)
Due to the current Coronavirus COVID-19 Lockdown No. 6 and its extension until Thursday, 2 September, 2021, Waverley Tennis has decided to delay the start of the Summer Season 2021/22 and the team entry closure by 2 weeks and run a 12-14 round Summer Season, finishing at the end of March 2021.
Therefore, please be advised of the following changes in dates:-
Closing date of entries: 3rd September (Friday)
Match Convenors' Meeting: 19th October (Tuesday)
The Summer Season dates will now be:
Round 1: 23rd October
NO PLAY 30th October (Melbourne Cup)
Round 2: 6th November
Round 3: 13th November
Round 4: 20th November
Round 5: 27th November
Round 6: 4th December
Round 7: 11th December
Round 8: 18th December
NO PLAY - 25th December to 22nd January (School Holidays)
Round 9: 29th January
Round 10: 5th February
Round 11: 12th February
Round 12: 19th February
Round 13: 26th February
Round 14: 5th March
NO PLAY: - 12th March (Labour Day)
Round 15: 19th March (4 team sections)
FINALS
Semi Finals / Preliminary Finals: 19th March
Grand Finals: 26th March (Reserve Date 2nd April)
Footnote: Any further delays in closing date and season starting, due to COVID-19 lockdown extensions and/or new lockdowns, would require a shortening of the season; timely advice to Affiliates will be provided should this be the case.

Kind regards,
Van