Mid-Week Mens
---
Welcome to MWM 2018 Autumn Season, starting Wednesday 31st January
UPDATE - 28th January
Gents,
The paperwork is in place, and the following have been sent to those on the email list (only the Fixture Card and Guidelines are available online):
Captains Details,
Guidelines - Alterations since last issue are in red.
Emergency Pool - Not a long list but with a bye in each section captains should have an OK supply. Note also it is bad "form" for a captain not to cooperate in providing an emergency when on a bye - "we are having a practice" is not an excuse.
All being well Len will have the system ready to accept electronic entry of results by lunch time Wednesday.
Best wishes for a season of enjoyable tennis & fellowship.
Regards,
Lindsay
The Sub-Committee feels it has achieved a worthwhile objective in deciding to run with 5 sections each with 5 teams [HOPEFULLY*** see below & help if you can]
Teams & Sections are as follows:
A Reserve
Burden Park
Glen Waverley Aces
Glen Waverley Clubs
Glen Waverley Stars
Lum Reserve
B Special 1
Bayview
Burden Park
Glen Waverley
Wheelers Hill Tree Frogs
Wheelers Hill Southern Frogs
B Special 2
Clarinda
Burden Park
Glenburn
Lum Reserve
St Christopher's
B Grade
Doveton Magpies
Essex Heights
Glen Waverley
Legend Park
Whites Lane Mulgrave
C Special
Burden Park
Glen Waverley
Doveton Devils
Whites Lane Mulgrave
Essex Heights/Lum Reserve [see notes below]
The major benefit of the five team sections is having the bye for a break and the provision of a ready supply of emergencies to cater for our injury prone, sickness prone and itinerant profiles. Please be willing to offer up appropriate players when you have a bye as this willingness is a key criteria in making life easier for captains and the competition more enjoyable.
An important benefit of introducing the C Special Section is to better separate an important group of players in the B Grade & C Special zone. They were all together last year and some players found in a bit easy and many found it very hard to achieve modest success and satisfaction. We are confident that all of these players will get increased satisfaction this coming season.
The Fifth Team in C Special Identified as Essex Heights/Lum Reserve [at this point] We do have a problem in that there is not yet have enough players for the fifth team. Whilst use of emergencies will help we must have at least 3 or 4 more core players of this level who will be willing to play 'a few games' during the season.
If players offering to join this team would prefer to play on an alternative surface to the Plexipave at Essex Height we will relocate the team to Lum Reserve with synthetic grass.
Captains and players please contact the writer promptly if you can identify someone who can help out
they could be someone in a B Grade team who is finding it a little hard at that level,
someone in a C Sp team where you have slightly excess numbers,
someone who is only playing social tennis and does not want to make a full commitment to competition, or
someone who wants to play but is only available for part of the season which runs through to mid-June.
We have an urgent need for your help on this so please give it some thought and help out if you possibly can.
Fixture - As soon as we have made at least a little progress with the fifth C Sp team we will be in a position to release the fixture for the season by email.
Regards
Lindsay Coster
---
Join the MWM email list!
If you want to know about what is happening in the world of Mid Week Mens, and can't always check this page, contact Lindsay on mwm AT waverleytennis.asn.au and ask to be put on the email list.
---
Guidelines
Any questions about how the competition runs can be found in the Guidelines, issued July 2017.
---
2018 - Autumn fixture and results
MWM WEB PAGE
We are seeking support from all players to build the information appearing on our webpage at www.waverleytennis.asn.au Mid Week Mens. An effort is being made to include more information of interest including photos, results, ladders and other items of interest.
Please let your captains know or submit information by email to mwm AT waverleytennis.asn.au

Lindsay Coster
MWM Sub-Committee
---
Bendigo Bank Pinewood sponsor
Bendigo Bank Pinewood sponsors our Tennis activities in a positive way so if you have any financial needs,
please contact the Pinewood Branch, they will look after you.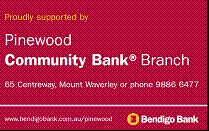 ---
Competition Features
Played on Wednesday mornings: 9.30am - 12.30pm (approx)
Open aged: from 20's to 80's
Four grades catering to all standards
Each team fields 4 players, but 5 can be use if you wish.
Three sets of doubles per player per match on 2 courts
Sets are first to 8 games (to 6 games in lowest section) with provision for variation by agreement
Coffee/tea and light lunch hosted by home team
Other Information
Participation costs are set by home club but are approximately $2-$4 per match
Teams have more than 4 players to accommodate injury, travel and "she who must be obeyed"
Organiser is only too happy to help place new comers in a team
Social Play & Final Events

All grades come together at Robinson Reserve Tennis Centre (RRTC), Doveton (Home of Waverley Tennis), for the Grand Final series. Facilities available for other players and friends. Grand Finals are followed by BBQ lunch for all, and presentation of trophies to players representing winning teams and runners-up in each grade.
The Grand Finals Day at the RRTC has developed into a much looked forward to social event where all players renew old friendships and develop new ones whilst watching intensely contested Grand Finals and enjoying the BBQ lunch.
[Last updated: 07/03/2016]