Mid-Week Mens
---
Gents,
We are still hoping to commence on our new start date of Wednesday 28th July but please be prepared for a further deferral if it is forced upon us.
You can see a provisional, hopefully it will be confirmed, fixture on the Waverley Tennis website under Fixtures. The pleasant surprise is that we have had a late entry, you will see, into Section 1, maxing 6 teams there.
Your Sub-Committee is currently deliberating on the question of what to do should we not be allowed to start next Wednesday.
We are considering options to push the fixture back & play on one of the school holiday weeks in September or to just award half points for a lost first round.
We do not want to commit to a delay in the Grand Final at this stage.
Initial feed back from a small sample suggests support for playing on the 22nd September the first of the school holiday weeks. If you believe that will cause a major problem for your team please let us know quickly.
Come next Tuesday morning we will send an email to Captains and General circulation confirming precisely what is happening although you should know by then from news reports.
We will update the online Fixtures if we decide to delay the first round Please be highly aware of that as we do not want any confusion.
If any Captain wants a new score book please let us know.
If you want to use the new online TROLS page for entering results on your phone the link is https://trols.org.au/wdta/mobile.php, which looks like this: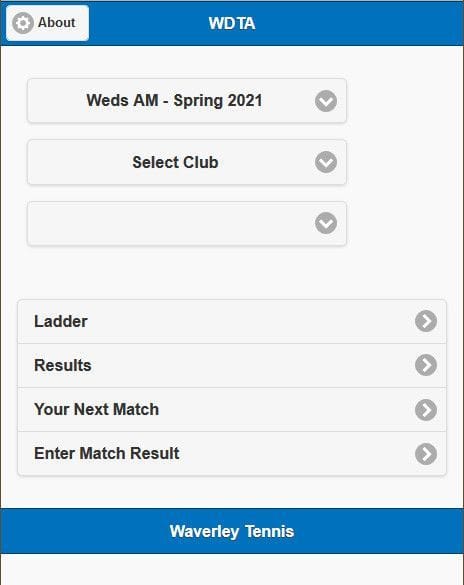 Select the Season, then your club. If you have more than one team, you then select your team. If you only have one team, it will be automatically selected. The Ladder, Results and Your Next Match options are as noted. If you would like to use the mobile page to enter your results, click on the link and you will be taken to the following page: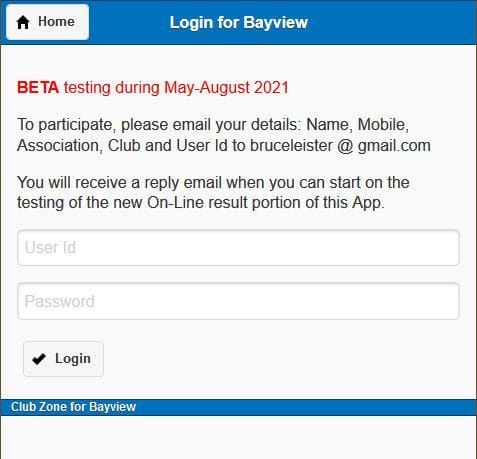 Your existing TROLS User Id and password for entering results in your browser remain the same, you will need to advise Bruce, as per the instructions, to set you up to use the TROLS mobile page to enter the match results.
We plan to issue paper Fixture Cards although some people are less reliant on them feedback on this is also welcome.
Regards
Lindsay Coster
Waverley Tennis MWM Convenor
OUR "SENIORS SENIOR" CLASS OF 80+ YEAR OLD PLAYERS
We have unfortunately neglected our 80+ year old players in 2020 & 2021 is this yet another example of elders abuse!! in that we have not honoured new members of the group with public presentation of certificates.
We have new members Ken Mitchell & Charles Cattermole in this group and there are several more, whose names have not been noted. Could all Captains find a moment to check on this subject and advise by email, if they have new qualifiers in their team. We will arrange public presentation of certificates, possibly at home Clubs early next season rather than delay until the Spring Grand Finals.
MWM Fixture Card with some corrections & additions

The important changes include replacing Ian Jenner with Glyn Chesson as contact for Whites Lane Mulgrave and correcting the phone number for Bob Gibbons the ending 083 s/be 093 if you want to correct paper copies. You may like to also correct his name as well as Section 3 should be 4 [sorry again Bob].
REUSEABLE SCORE SHEETS
Hopefully, some of you have used the plastic covered sheet.
There is concern that it is prone to smudging but we have not received any feedback.
Anyone liking the idea & willing to experiment may like to try non water-based pen [they dry quicker on plastic] but then do not erase with damp [water] cloth. They do however erase with methylated spirits, but this complicates the process.
Any retired or 'budding' chemists with suggestions??

As previously indicated we do have paper score books available if you want one let us know if you require one.
CAPTAINS LISTING & FIXTURE CARD
A reminder to check these documents for errors & updates. If like some, you have cancelled your home landline, please advise if it is in either document.
MATCH RESULTS ONLINE ENTRY
When entering results if you find any error in player names please SMS or E-mail Neil Armstrong [details on Fixture & Captains/Sub-Committee Listing]. We like to have these precisely correct.

Should you discover after lodging match results that there was an error in the match results, please follow this procedure > Contact opposing Captain & agree on the correction, then jointly email Neil Armstrong to have correction made.
USE OF EMERGENCIES
It is recognised that with an absence of byes in all sections but one, there is a restriction on obtaining emergencies. Be aware of paragraphs A & E of Guidelines issued in January 2021 as part of avoiding being seen to have unfairly strengthened your team when using an emergency.
Please do not hesitate to contact us if you have any queries.
Lindsay Coster
MWM Convenor
Guidelines
Any questions about how the competition runs can be found in the Guidelines, issued January 2021.
Regards,
Lindsay Coster
---
Join the MWM email list!
If you want to know about what is happening in the world of Mid Week Mens, and can't always check this page, contact Lindsay on mwm AT waverleytennis.asn.au and ask to be put on the email list.
---
2021 - Autumn fixture and results
MWM WEB PAGE
We are seeking support from all players to build the information appearing on our webpage at www.waverleytennis.asn.au Mid Week Mens. An effort is being made to include more information of interest including photos, results, ladders and other items of interest.
Please let your captains know or submit information by email to mwm AT waverleytennis.asn.au

Lindsay Coster
MWM Sub-Committee
---
Bendigo Bank Pinewood sponsor
Bendigo Bank Pinewood sponsors our Tennis activities in a positive way so if you have any finanacial needs, please contact the Pinewood Branch, they will look after you.
Click here for more information.
---
Competition Features
Played on Wednesday mornings: 9.30am - 12.30pm (approx)
Open aged: from 20's to 80's
Five grades catering to all standards
Each team fields 4 players, but 5, or 6, can be used if you wish.
Three sets of doubles per player per match on 2 courts
Sets are first to 8 games (to 6 games in lowest section) with provision for variation by agreement. A tiebreak is played at 7 all.
Coffee/tea and light lunch, hosted by home team
Other Information
Participation costs are set by home club but are approximately $2-$4 per match
Teams have more than 4 players to accommodate injury, travel and "she who must be obeyed"
Organiser is only too happy to help place new comers in a team
Social Play & Final Events
All grades come together at Robinson Reserve Tennis Centre (RRTC), Doveton (Home of Waverley Tennis), for the Grand Final series. Facilities available for other players and friends. Grand Finals are followed by BBQ lunch for all, and presentation of trophies to players representing winning teams and runners-up in each grade.
The Grand Finals Day at the RRTC has developed into a much looked forward to social event where all players renew old friendships and develop new ones whilst watching intensely contested Grand Finals and enjoying the BBQ lunch.
[Last updated: 10/06/2019]