Mid-Week Mens
---
Final Ladders for Autumn 2018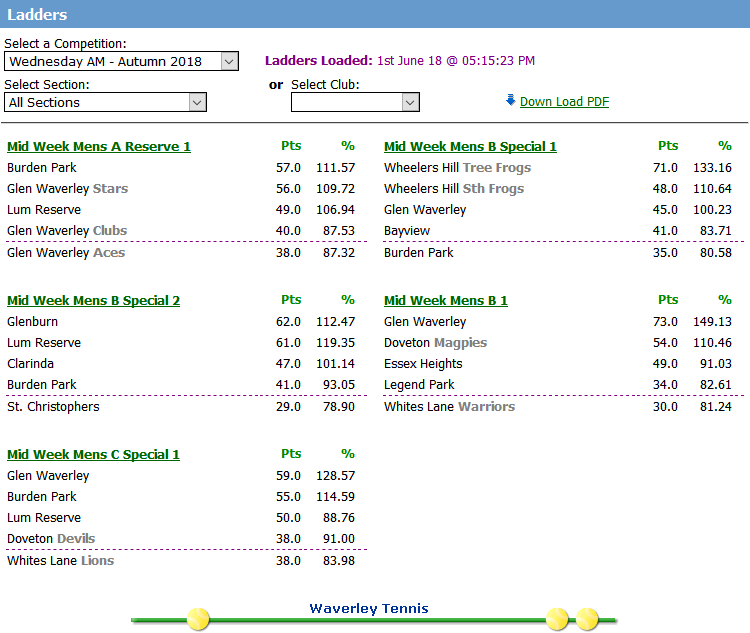 (Note: C Sp ladder has been adjusted after first issue because of usage of a player considered to have strengthened Lum Reserve. 5 points awarded to Whites Lane Mulgrave. No effect on final ladder positions.)
Gents,
I consider all who attended on Wednesday, and there were lots, enjoyed a very good Grand Final day aided by near perfect playing conditions. Even the sunshine was appropriately subdued!
Great tennis with the A Reserve being its usual intense, high standard & entertaining contest but the B Special match between the different Frogs residing in Wheelers Hill, not being far behind. Perhaps a little less GF tension brought out the best in them.
Well done to all participants on the day.
Grand Final results played 20th June 2018
A Res
Glen Waverley

Stars

4 - 37 defeated Burden Park 2 - 28
B Sp 1
Wheelers Hill

Tree Frogs

3 - 43 defeated Wheelers Hill

Southern Frogs

3 - 38
[Tree Frogs jumped their opposition
by winning the first 3 sets]
B Sp 2
Lum Reserve 4 - 39 defeated Burden Park 2 - 31
B Grade
Glen Waverley 5 - 45 defeated Doveton

Magpies

1 - 26
C Sp
Glen Waverley 4 - 38 defeated Burden Park 2 - 28
A special thank you to Graeme Gillen, Trevor Smith, Len Pratt, Ken Mitchell & Mark Collins for your attendance and contributions to the very successful and enjoyable day.
Wednesday Morning Social Tennis
Social tennis from next week at 9.00am + at Glen Waverley, Burden Park and 10.00am at Whites Lane with special invitation to C, C Sp & B Graders.
Statistics of Interest: 169 Team Members participated during the Season & 53 played as an Emergency for another Club.
Next Season - Spring 2018 - Entries (lodge early if possible)
Closing date is 30th June 2018.
First match is on 18th July 2018.
Early lodgement of entry forms makes life easier for the Sub-Committee & don't forget you are on our competition promotion & marketing committee and are tasked with rounding up new players and teams.
Please try to complete the form "on screen" via a PC, as it will help us to get team member names correct on the web results entry system. If you cannot complete the form "on screen" provide me with all details as soon as possible. I will then complete it "on screen" and email back to you for a final OK.
New Players & New Teams
Very welcome. Please contact us now if you are, or know, prospects. Please do what you can to recruit new players. We are keen to welcome a couple more big guns and have a need for several players in the C Sp B grade zone.
Regards,
Lindsay Coster
---
Join the MWM email list!
If you want to know about what is happening in the world of Mid Week Mens, and can't always check this page, contact Lindsay on mwm AT waverleytennis.asn.au and ask to be put on the email list.
---
Guidelines
Any questions about how the competition runs can be found in the Guidelines, issued January 2018.
---
2018 - Autumn fixture and results
MWM WEB PAGE
We are seeking support from all players to build the information appearing on our webpage at www.waverleytennis.asn.au Mid Week Mens. An effort is being made to include more information of interest including photos, results, ladders and other items of interest.
Please let your captains know or submit information by email to mwm AT waverleytennis.asn.au

Lindsay Coster
MWM Sub-Committee
---
Bendigo Bank Pinewood sponsor
Bendigo Bank Pinewood sponsors our Tennis activities in a positive way so if you have any financial needs,
please contact the Pinewood Branch, they will look after you.
---
Competition Features
Played on Wednesday mornings: 9.30am - 12.30pm (approx)
Open aged: from 20's to 80's
Four grades catering to all standards
Each team fields 4 players, but 5 can be use if you wish.
Three sets of doubles per player per match on 2 courts
Sets are first to 8 games (to 6 games in lowest section) with provision for variation by agreement
Coffee/tea and light lunch hosted by home team
Other Information
Participation costs are set by home club but are approximately $2-$4 per match
Teams have more than 4 players to accommodate injury, travel and "she who must be obeyed"
Organiser is only too happy to help place new comers in a team
Social Play & Final Events

All grades come together at Robinson Reserve Tennis Centre (RRTC), Doveton (Home of Waverley Tennis), for the Grand Final series. Facilities available for other players and friends. Grand Finals are followed by BBQ lunch for all, and presentation of trophies to players representing winning teams and runners-up in each grade.
The Grand Finals Day at the RRTC has developed into a much looked forward to social event where all players renew old friendships and develop new ones whilst watching intensely contested Grand Finals and enjoying the BBQ lunch.
[Last updated: 07/03/2016]