INVITATION TO ALL CLUB OFFICIALS
AND CURRENT CLUB NIGHT TENNIS CONVENORS
Waverley Tennis Night Competition Club Meeting will be held on
Thursday 29 November 2018 at 7.30pm
at Wheelers Hills Tennis Club, Sunnybrook Drive, Wheelers Hills 3150.
All Club Officials and current Club Night Tennis Convenors are invited to attend.
For more information please email night.tennis@waverleytennis.asn.au
---

Night Tennis - Autumn 2019 commences Monday 4th February 2019
The entry form for the Autumn 2019 season of Night Tennis is now available.
Entry forms can be sent to your club's Night Tennis Convenor.
Entries close: Tuesday 20th November (late entries will be accepted).
---
Night Tennis Contact details
Following the passing of Eric Beeston, our Night Tennis Convenor and Record Secretary, the position of Record Secretary has been taken over by Bruce Leister, in an acting capacity.
All communications regarding Night Tennis can continue to be sent to the night.tennis @ waverleytennis.asn.au email address and will be processed as required.
---
Waverley Tennis Office Bearer Vacancies
The following positions are vacant and Waverley Tennis is seeking expressions of interest from persons interested in filling any of these positions:
Vice President (1 of)
Night Competition Convenor & Record Secretary (1 of)
Junior Committee Member (at least 3 required, ideally suited for tennis club junior convenors)
Please forward expressions of interest to President, Mark Collins, who can provide a job description to any interested person.
Contact details are: president @ waverleytennis.asn.au or tel: 0403 047 541
---
28 teams have entered - 17 Green ball & 11 Orange ball.
Term 4 season starts Sunday 28 October & concludes on 9 December.
Hot Shots Matchplay is a great way to introduce young players & parents to competition tennis.
Medallions & certificates are awarded to all players.
---
---

Annual Gil Quillinan Memorial Tennis Event
Thank you to everyone that came along and supported our very successful annual charity Tennis Event held at Vermont Sth TC on Thursday 6th Sept. We raised an amazing $1,220 profit which will be going to the OVARIAN CANCER RESEARCH FOUNDATION.
See midweek ladies page for the full report and some pics of day.
---
Summer Season 2018-19 resumes
Saturday week, 10th November 2018
We have this week off due to the Melbourne Cup on Tuesday.
Find your next match using the Fixtures link at the top of this page.
---
Weekend Handbook online - Summer Season 2018 - 19
The Waverley Weekend Handbook is also available in an electronic form. The PDF version can be accessed by clicking on the cover.
The teams and fixtures in the handbook include any team changes and withdrawals that have been made since the handbook went to press.
To make navigation easier, this handbook contains active links for both the Index and the By-Laws. Please make note of the changes and clarifications made to the By-Laws for this season.
The details are correct as at 11:00pm 24th October 2018.
---
Associations Junior League - Teams announced
The teams competing in the Waverley Association Junior League competition are now available for viewing.
The 11 week season commences on Sunday 19th August, with finals on 25th November.
Competition details can be found on the Associations Junior League page.
---
"This is a GAME'
At the February Council meeting, Tennis Victoria brought along a few A-frames with this message. Quite a few club representatives were interested in taking this back to their clubs.
For those clubs who would like to print off a copy to display in a prominent place on match days, Tennis Victoria have provided a PDF of this sign.
(Click on image for a larger view. This will open in a new window.)
---
Mid Week Mens Competition Wednesday Mornings
Spring Season has 1 week to go before the Finals. Further details are on the MWM page.
---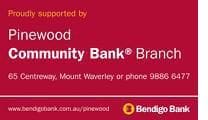 Pinewood Community Bank
The Pinewood Community Bank Branch of Bendigo Community Bank, a significant Sponsor of the Association, invites affiliated clubs and their members to participate in their Community Support program.
Click here for more information.
---