Retirement of Association Secretary, Mr. Jim Birch
After 25 years in the role of Association Secretary, and many years prior to that in a number of other roles, Jim has advised the Committee of Management that he will not be seeking re-election at the 2018 AGM to be held on Thursday evening, 09 August, 2018.
Jim's meritorious and outstanding services to Waverley Tennis will be duly recognised at this event.
Waverley Tennis is now canvassing all Waverley Tennis Affiliates for either an existing Tennis Club officer bearer, or any club person, with the available time, interested in filling the position of Association Secretary into the future. This is an important and pivotal position in the smooth running of Waverley Tennis.
Jim has advised that he will assist in the transition of duties to an incoming Association Secretary.
Confidential expressions of interest can be directed to Mark Collins, who can provide a job description to any interested person.
Contact details are: president @ waverleytennis.asn.au or 0403 047 541
---

Annual Gil Quillinan Memorial Tennis Event
Thursday 6th September -. Ladies why not come along to our Annual Tennis Event held at Vermont Sth TC, for Round Robin Tennis and a lovely chicken and champers/OJ lunch!!! All proceeds go to the OVARIAN CANCER RESEARCH FOUNDATION. Entries close 24th August. See midweek ladies page for more details and entry forms - all standards most welcome (A & B Graded Round Robin).
---
Associations Junior League - Teams announced
The teams competing in the Waverley Association Junior League competition are now available for viewing.
The 11 week season commences on Sunday 19th August, with finals on 25th November.
Competition details can be found on the Associations Junior League page.
---
11 & Under Frank Sedgman Cup Trials (age as as 31st July 2018)
Saturday 26th May 2pm at Doveton Tennis Club
Register your interest by email to Lyn Gillen ggillen33@optusnet.com.au by Wednesday 23 May giving details of date of birth, Waverley team (Saturday/Sunday), club, coach's name, mobile contact, home phone
The cup is a Tennis Victoria event to be held in Bairnsdale on Saturday 28 July and Sunday 29 July, 2018. Team consists of 2 boys and 2 girls.
---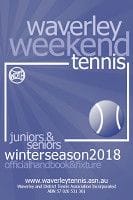 Weekend Handbook online - Winter Season 2018
The Waverley Weekend Handbook is also available in an electronic form. The PDF version can be accessed by clicking on the cover.
The teams and fixtures in the handbook include any team changes and withdrawals that have been made since the handbook went to press.
To make navigation easier, this handbook contains active links for both the Index and the By-Laws. Please make note of the changes and clarifications made to the By-Laws for this season.
The details are correct as at 2:30pm 11th May 2018.
---
"This is a GAME'
At the February Council meeting, Tennis Victoria brought along a few A-frames with this message. Quite a few club representatives were interested in taking this back to their clubs.
For those clubs who would like to print off a copy to display in a prominent place on match days, Tennis Victoria have provided a PDF of this sign.
(Click on image for a larger view. This will open in a new window.)
---
Mid Week Mens Competition Wednesday Mornings
Spring Season has just started. Further details are on the MWM page.
---
Waverley Win 96th Finchley Shield
Teams from the Waverley, Melbourne Churches and Catholic Tennis Associations competed at Glen Waverley Tennis Club over the Queens Birthday weekend. Waverley was represented by a team from St Paul Apostle Melissa Vrdoljak , Chris Wickenton, Depak Pillai & Archie Sachdeva.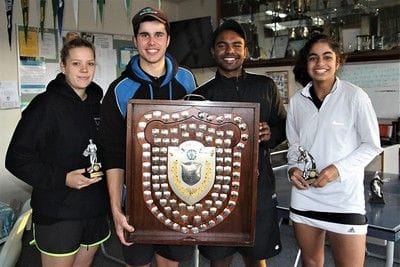 ---

Pinewood Community Bank
The Pinewood Community Bank Branch of Bendigo Community Bank, a significant Sponsor of the Association, invites affiliated clubs and their members to participate in their Community Support program.
Click here for more information.
---