Frank Sedgman Cup
The Frank Sedgman Cup is a metropolitan and regional team event for 11 & Under boys and girls from across Victoria. The competition is a round robin format with ties consisting of two boys' singles, two girls' singles and two mixed doubles rubbers.
2019 - This year the event was held on 27 & 28 July 2019. Congratulations to our team who finished in 4th position out of 17 teams, losing to Moorabbin & District by 3 games in the ¾ playoff. Team played extremely well over the weekend. 140 visiting team members (including family members) joined together for a meal at La Porchetta on Saturday night.Our team was represented by:
Liam Kindler
Cooper Pearson
Sophia Brooks-Gay
Alice Irvine
Special thanks to Lyn Gillen for managing the team and all the parents for their support over the week-end.
2013 - The competiton was held in Traralgon on Friday 2 August on Saturday 3 August and Sunday 4 August. Waverley Tennis team was represented by:
Charlie Collins (Vermont Tennis Club)
Ethan Bedoya (Dingley Tennis Club)
Tamara Bajagic (Vermont Tennis Club)
Chiara Antonacci (East Burwood Tennis Club)
Photos from the event at:
http://www.facebook.com/tennisvic
More photos from "Arctic Traralgon". In very windy and freezing conditions our team battled with the wind to compete in a round robin format. Great effort from all team members and a chance to make some new friendships. Thankyou to parents for your support and kids for giving your best effort.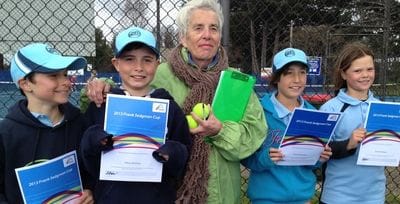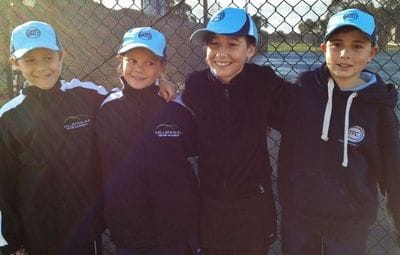 Left to Right - Charlie, Tamara, Chiara & Ethan Forgot to mention we won the "Jelly Bean Award" for the most visits to the Sports Trainer. From memory we also won this award at the Wayne Arthurs Cup. Better pick some fitter players next time!!!!!