Night Tennis
---
Spring 2020 Season
The Spring season has been shortened to 5 weeks, and will only be run on Tuesday nights. The first match commenced on the 17th November. There will not be a Finals series, with the top team being declared the section winners.
2020 Spring Season Draw (updated 8 Nov 2020)
Autumn 2021 Season
The Autumn season will commence on Monday night.1st February 2021.
Autumn 2021 Entry Form (Download and open with Acrobat Reader DC.)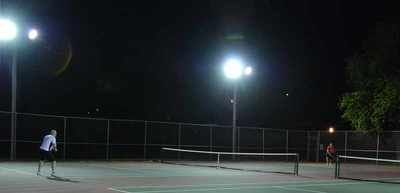 WAVERLEY NIGHT TENNIS OFFERS YOU:
Monday: Ladies and Open Doubles
Tuesday: Open Doubles and Open Singles/Doubles
Wednesday: Mixed Doubles.

Standards available: A Grade to C Special Grade.
Home & Away Competition
2 courts per team each night.
Ladders etc. on website
Social atmosphere
Benefits include:
Early finishes;
Home and away competition.
Clubs can benefit from night competition revenue;
Clubs with no lights can enter & will be allocated to other venues;
Clubs with insufficient court availability will have teams allocated to other venues;
and
Clubs can enter from one team to any number of teams
New clubs very welcome.
For more information email night.tennis@waverleytennis.asn.au