Pat Pearce Carnival
This Inter-Association carnival between NEJTA, NSJTA, ERT and Waverley Tennis is held each year. Associations take turns in hosting the carnival. This event is played by boys and girls of two age groups: 15 & under and 13 & under.
2019 - the 65th Mrs Pat Pearce Carnival was held at Boroondara Tennis Centre on 13 & 14 July 2019.
Congratulations to our players for winning the carnival! Waverley Tennis was announced as winner of the event in 2019 making it 5 wins in a row. An outstanding achievement. It is Waverley Tennis' turn to host this event in 2020.
Waverley Tennis Team was formed by:
15 & under: Mineth Nawarathna, Tawananyasha Manzvera, Joshua Huang Prisha Baliga, Leona Doan, Emma Frerker.
13 & underPat: Aedan Nelson, Nenyasha Manzvera, Steven Klasan Nithesa Selvaraj, Zara Lumanovski, Kate Smith
Team Managers Lyn Gillen & Prathisa Selvaraj.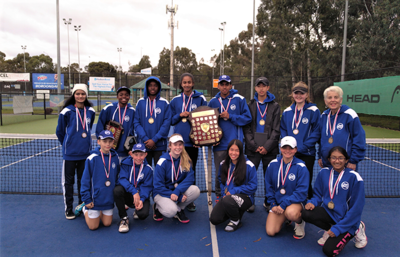 2014 - the event was hosted by NSJTA and held at Royal Park
The carnival was won by North Suburban, 2nd North Eastern, 3rd Waverley and 4th Eastern Region
Our team competed well and had a great team spirit, The Waverley team :-
15 & under Cassidy Denny, Melanie Kempson, Bianca Jones, Belle Thompson
Jordan Arazi, Lawrence Barbuto, Nicholas Gourgoulis, Liam Louzado
13 & under Chiara Antonacci, Tallie Collins, Liana Rhodes, Zoey Tan
Elvin Dolic, Max Flaherty, Nicholas Smith, Tobias Wietrzyk
Voting for Event Best 13 & under Boy Max Flaherty Best 15 & under Boy Liam Louzado