Daphne Fancutt Shield
---
The Daphne Fancutt Shield is held every year for associations in Victoria and one from Queensland. It is played over one week end and provides players with the opportunity to represent their team in a team environment. The selection of athletes is based on merit within each association.
1991
Queensland
Boys
Grant Henricks
David Middleton
Ryan Frischkorn
Craig Meng
David Laverty
Girls
Natalie Barby
Nadia Johnston
Jane Richardson
Alissa Dragan
Angela Szymanowski
1992
Queensland
Boys
Mark Handley
Andrew Beh
Anthony Wollschlager
Gerard Rapkins
William Shaw
Girls
Kylie Pratt
Angela Doyle
Sadiar Thomas
Joanne McWhinney
1993
Queensland
Boys
Max Camillos
Craig Meng
Paul Hodge
Adam Carey
Girls
Sonya Chand
Angela Doyle
Melissa Chaw
Megan Hiscox
1994
Queensland
Boys
Andrew Beh
Jonathon Leijen
David Rose
Mathew Koch
Girls
Minyon Jones
Cara Besch
Sharon-Maree Bunt
Kylie Bond
1995
Waverley Tennis
Boys
Graeme Perry
Patrick Louis
Jason Rusec
Shane Horan
Damien Seisun
Girls
Amy MacMillen
Lisa D'Amelio
Kim Gardiner
Jacinta Mitchard
Athina Pirpiris
1997
Waverley Tennis
Boys
Graeme Perry
Jason Rusec
Tristan Freeman
Shane Horan
Daniel Byrnes
Girls
Lisa D'Amelio
Kim Gardiner
Leanne Jenkins
Laura McNamara
Megan Allen
1998
Waverley Tennis
Boys
Adrian Neoh
Gavin Goddard
Luke McConnell
Shane Horan
Nathan Ray
Girls
Kim Gardiner
Bambi McCann
Leanne Jenkins
Sharon Colledge
Megan Allen
1999
Waverley Tennis
Boys
Tristan Freeman
Shane Ray
Kerry Gardiner
Shaun Doherty
Nicholas Camilleri
Girls
Laura McNamara
Gorana Marjanac
Meryl Johnston
Jane Warne
Jessica Engels
2000
Tasmania
Boys
Sven Richter
Andrew Roberts
Jackson Hills
James Bolzonello
Robert Hill
Girls
Holly Stewart
Gillie Bailey
Bethany McFarlane
Olivia Troon
Alicia Butterworth
2001
Waverley Tennis
Boys
Reece Jarvis
Nicholas Camilleri
Joseph Daly
James Lemke
Yan Levinski
Girls
Emily Arnott
Breanna Little
Kristina Kustura
Jane O'Malley
Stephanie Broad
2002
Waverley Tennis
Boys
Steven Giammarco
Matthew Ray
Sebastian Postlethwaite
Andrew Rundle
David Wright
Girls
Emily Arnott
Kristina Kustura
Shelley Jacobson
Bojana Samardzic
Stephanie Broad
2003
Tasmania
Boys
James Bolzonello
Robert Hill
Glenn Thomas
Alex Geale
Dominic Rossetto
Girls
Emma Oakford
Chloe Tripp
Ashlea Welch
Hayley Lewis
Anna Wishink
2004
North Suburban Juniors
Boys
Adrian Phelan
Anou Banavoung
Ian Terpilowski
Anton Lukic
Kyle Caruana
Girls
Fern Speechley
Gemma Ryan
Joanne Karatiana
Elysia Stasi
Jessica Wilson
2005
Fancutt JTC
Boys
Myles Blake
Wyn Sanguanwantana
Nathan Willis
Chris Field
Harry Lee
Girls
Millie Weeks
Rebecca Lobb
Georgina Thomson
Katie Lee
Amy Barton
2006
Waverley Tennis
Boys
Jamie Wagstaff
Nic Kalisperis
Kapi Sivakumar
Rodney Eres
Stephen McKenzie
Girls
Rebecca Vas
Jessica Cossari
Stephanie Foster
Montana Grenfell
Wensi Cai
2007
Waverley Tennis
Boys
Sam Dowler
Aaron Tran
Trent Cobb
Jason Szeto
Matthew Nickels
Girls
Danijela Vukasinovic
Stephanie Skaras
Rhiannon Watt
Monique Stojanovic
Renee Tsongas
2008
Waverley Tennis
Boys
Alex Hogan
Trent Cobb
Jason Szeto
Joshua Tran
Michael Ilett
Girls
Kate Marshall
Stephanie Skaras
Jasmina Behlic
Renee Tsongas
Laura Rabinovich
Madeline Skaras
2009
Waverley Tennis
Boys
Aaron Tran
Jordan Cowling
Joshua Tran
William Ma
Adam Turlejski
Aaron Addison
Girls
Stephanie Skaras
Renee Tsongas
Elizabeth Kalyvas
Laura Rabinovich
Judy Nguyen
Alana Parnaby
2010
Waverley Tennis
Boys
Aaron Tran
Joshua Tran
Robert Hilbig
William Ma
Long Nguyen
Girls
Natalia Dragojevic
Elizabeth Kalyvas
Amelia Mills
Jayde Viccars
Noelleda Ah San
2011
Waverley Tennis
Boys
Ben Jones
Taylor Petrucci
Christopher Wickenton
Ryan Draffin
Nathan Ponton
Girls
Madeline Skaras
Jayde Viccars
Stacey Ponton
Jaide Collins
Audrey Teo
2012
Waverley Tennis
Boys
Ben Jones
Ryan Draffin
Nathan Ponton
Long Nguyen
Omar Fields
Girls
Stacey Ponton
Jayde Viccars
Jaide Collins
Melanie Woodward
Kelly Martin
2013
Waverley Tennis
Boys
Ryan Draffin
Nathan Ponton
Lachlan Bridgland
Nicholas Gourgoulis
Joshua Hocking
Girls
Jaide Collins
Gabriela Sprague
Priscilla Dawson
Melanie Woodward
Belle Thompson
2014
Fancutt JTC
Boys
Tom Fancutt
Dan Leung
Konrad Rink
Honzi Harrison
Andy Watterson
Will Peden
Ollie Borowdale
Girls
Isabella Franks
Katia Peden
Megan Parker
Carey Cooper
Liz Hood
Josie Dooley
Sally Clark
2015
Waverley Tennis
Boys
Eddie Bota
Darrin D'Roza
Pleurat Qitaku
Patrick Bota
Alen Lay
Max Flaherty
Girls
Madeline Kowalski
Melanie Kempson
Akanksha Puli
Cassidy Denny
Lucia Placidi
2016
Waverley Tennis
Boys
Darrin D'Roza
James Bruce-Smith
Liam Louzado
Jordan Batis
Aditya Ajit
Girls
Madeline Kowalski
Lucia Placidi
Jovana Jovic
Isabelle Papazyan
Jennifer McDonald
Prisha Baliga
2017
Fancutt JTC
Boys
Ryan Lee
Will Peden
Josh Eglesfield
Will Jesser
Alex Rice
Angus Gentner
Girls
Sophie Christie
Constance Gentner
Sophie Vygrave
Rahni Parle
Stephanie Fancutt
2018
North Eastern Juniors
Boys
Nathan Robolus
Andrew Caruana
Jasper Collins
Harrison McGregor
Alexander Scrutton
Girls
Ivana Savic
Abbey Rumble
Abbey Goeldner
Ruby Valentino
Bridget Heczey
2019
Waverley Tennis
Boys
Andrew Ilett
Viktor Sirucek
Sam Kim
Joshua Huang
Matthew Thach
Girls
Chiara Antonacci
Prisha Baliga
Jennifer McDonald
Leona Doan
Nithesa Selvaraj
2020
Waverley Tennis
Boys
Marko Pavicic
Mineth Narwarathman
Sam Kim
Luke Cripps
Ayan Keshwani
Girls
Sienna Opray
Prisha Baliga
Jennifer McDonald
Leona Doan
Emma Frerker
2021
Bayside Regional Tennis
Boys
Patrick Monteiro
Chris Alevizos
Julian Blainey
Eagan Lai
Patrick Flood
Girls
Charlotte McIntosh
Bianca Barbic
Ruby Ward
Olivia Moir
Savannah James

Click on the year to open the content.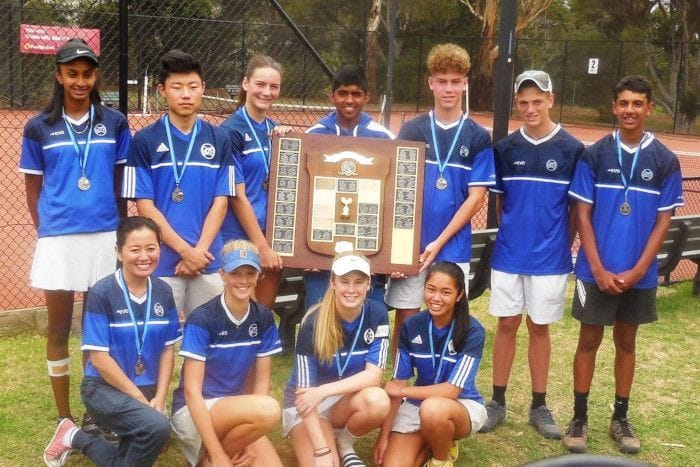 Back: Prisha Baliga Sam Kim Jennifer McDonald Mineth Narwarathman Marko Pavicic
Luke Cripps Ayan Keshwani
Front: Van Placidi (Mgr) Sienna Opray Emma Frerker Leona Doan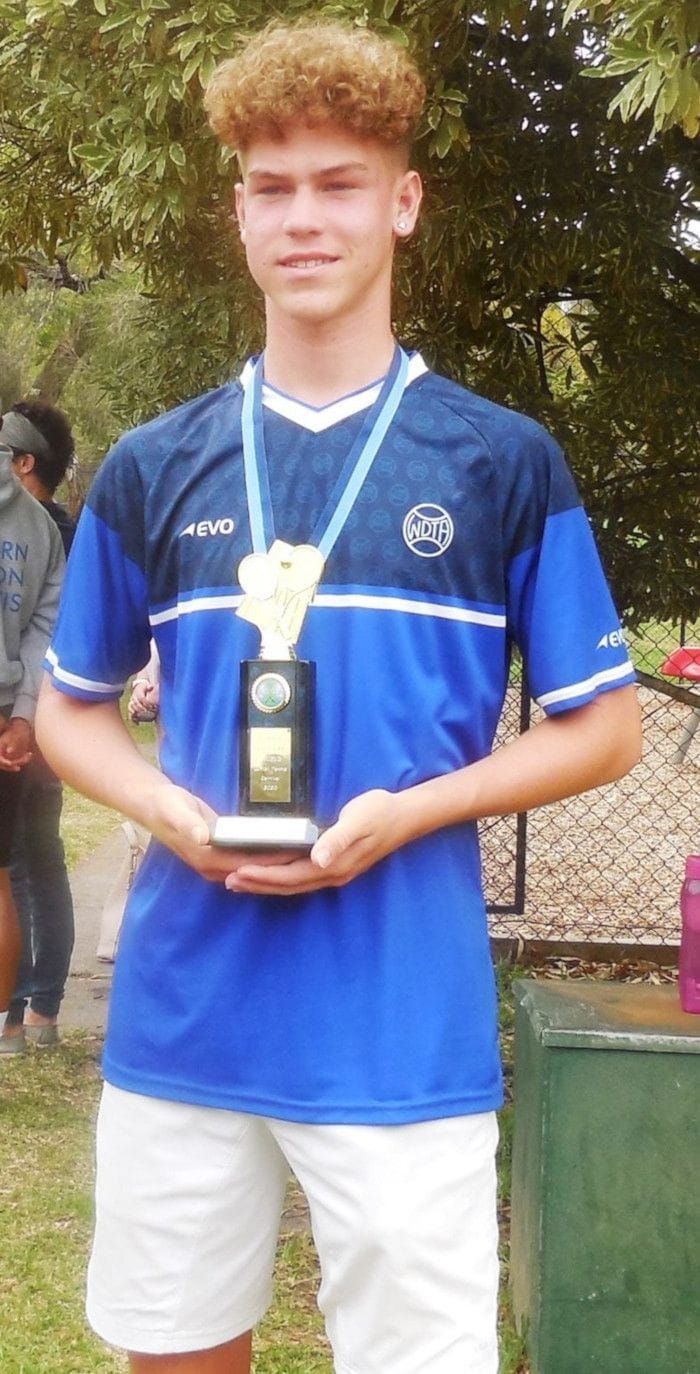 Overall Excellence Award for the Event was won by Marko Pavicic
Waverley Best Player Award: Ayan Keshwani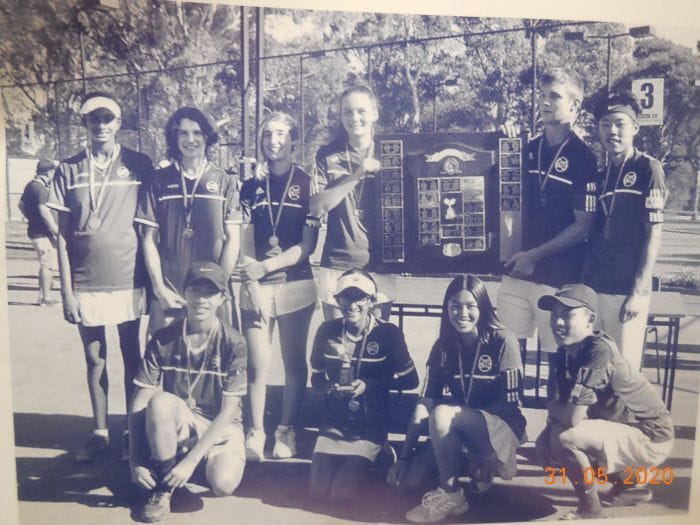 Back: Prisha Baliga Viktor Sirucek Chiara Antonacci Jennifer McDonald Andrew Ilett Sam Kim
Front: Joshua Huang Nithesa Selvaraj Leona Doan Matthew Thach
Waverley Best Player Joint Award: Nithesa Selvaraj and Andrew Ilett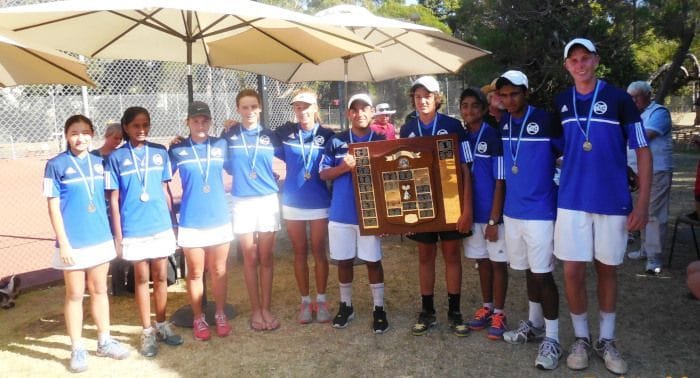 Lucia Placidi Prisha Baliga Madeline Kowalski Jennifer McDonald Jovana Jovic Darrin D'Roza Jordan Batis Aditya Ajit Liam Louzado James Bruce-Smith
Absent: Isabelle Papazyan

Overall Excellence Award for the Event: Liam Louzado
Waverley Best Player: Madeline Kowalski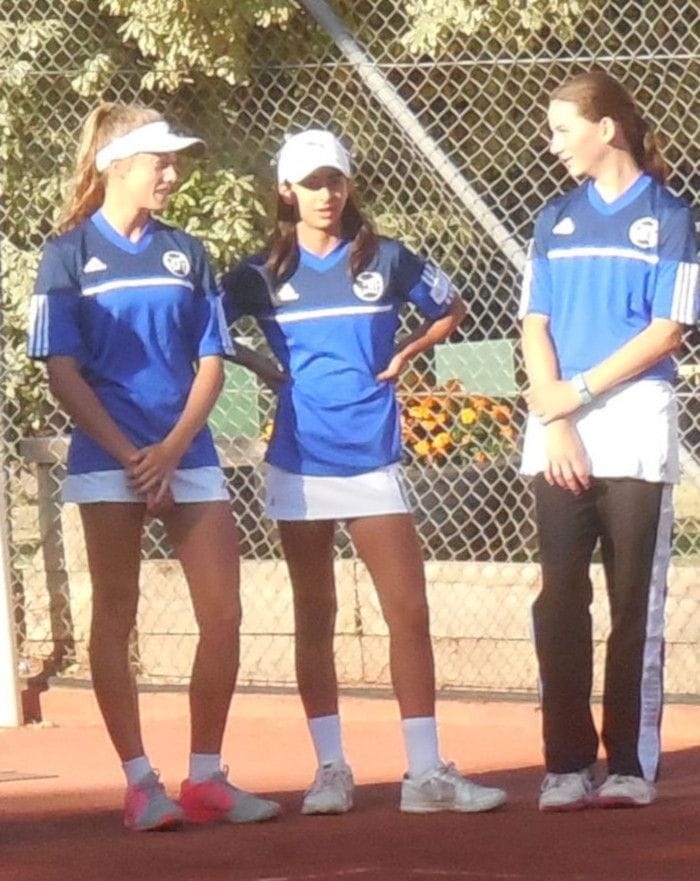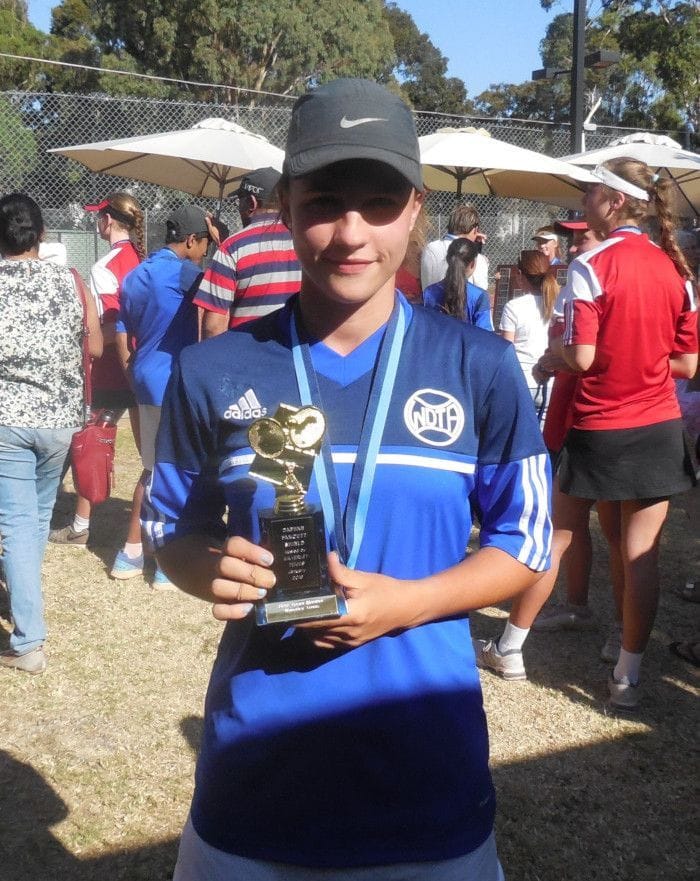 | | |
| --- | --- |
| Isabelle (retired after Day 1) with Jovana (l) and Jennifer (r) | Madeline Kowalski with Best Waverley Player Award |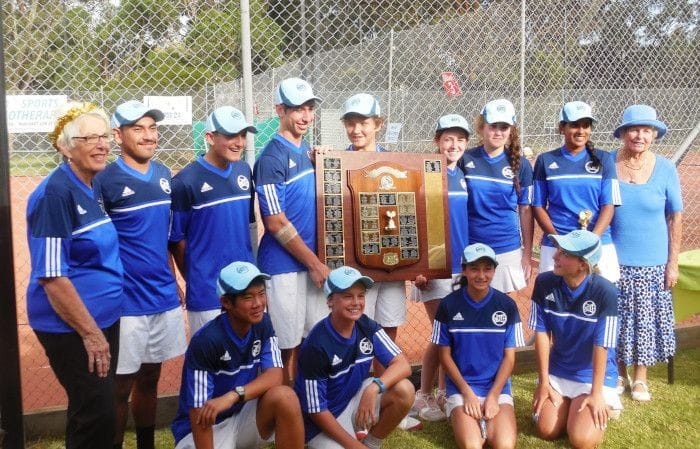 Back: Lyn Gillen (Mgr) Darrin D'Roza Pleurat Qitaku Eddie Bota Patrick Bota
Cassidy Denny Melanie Kempson Akanksha Puli Daphne Fancutt
Front: Alen Lay Max Flaherty Lucia Placidi Madeline Kowalski

Waverley Best Player: Akanksha Puli


Players are pictured being presented with the shield by Daphne Fancutt
From left to right: Jaide Collins, Priscilla Dawson, Joshua Hocking, Gabriela Sprague, Lachlan Bridgland, Nicholas Gourgoulis, Nathan Ponton, Melanie Woodward, Ryan Draffin and Sophia Storch.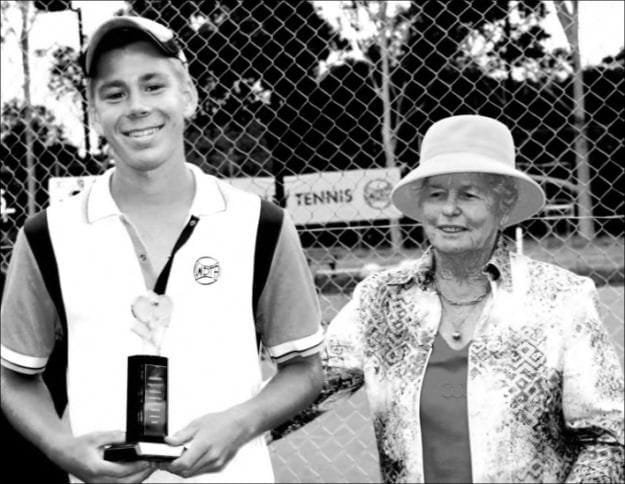 Overall Excellence Award for the Event: Nathan Ponton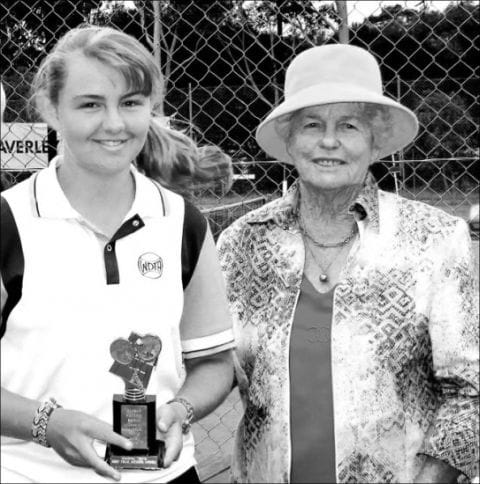 Waverley Tennis Best Player: Jaide Collins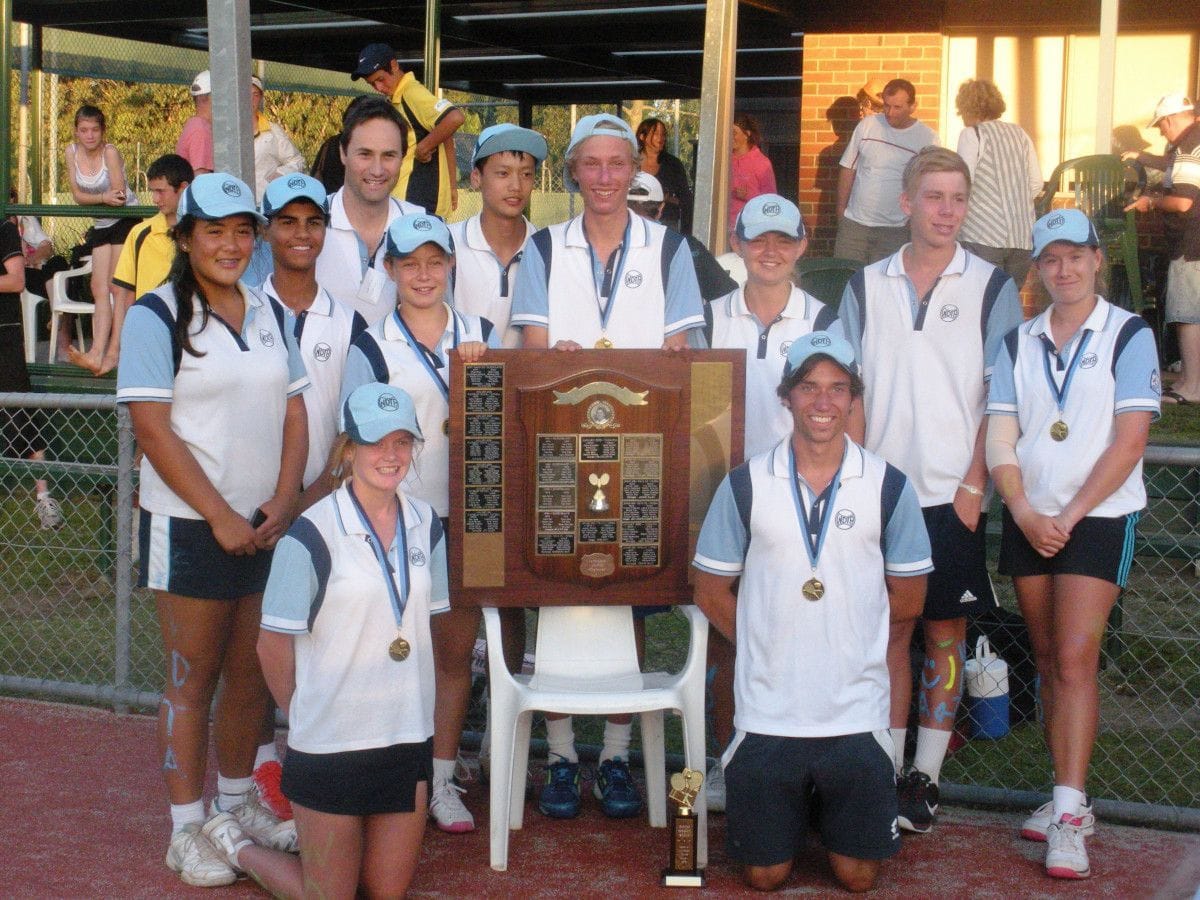 Back: Omar Fields Stuart Draffin (Team Mgr) Long Nguyen Ryan Draffin Nathan Ponton Stacey Ponton
Centre: Melanie Woodward Jayde Viccars Jaide Collins
Front: Kelly Martin Ben Jones

Overall Excellence Award for the Event: Ben Jones
Waverley Tennis Best Player: Omar Fields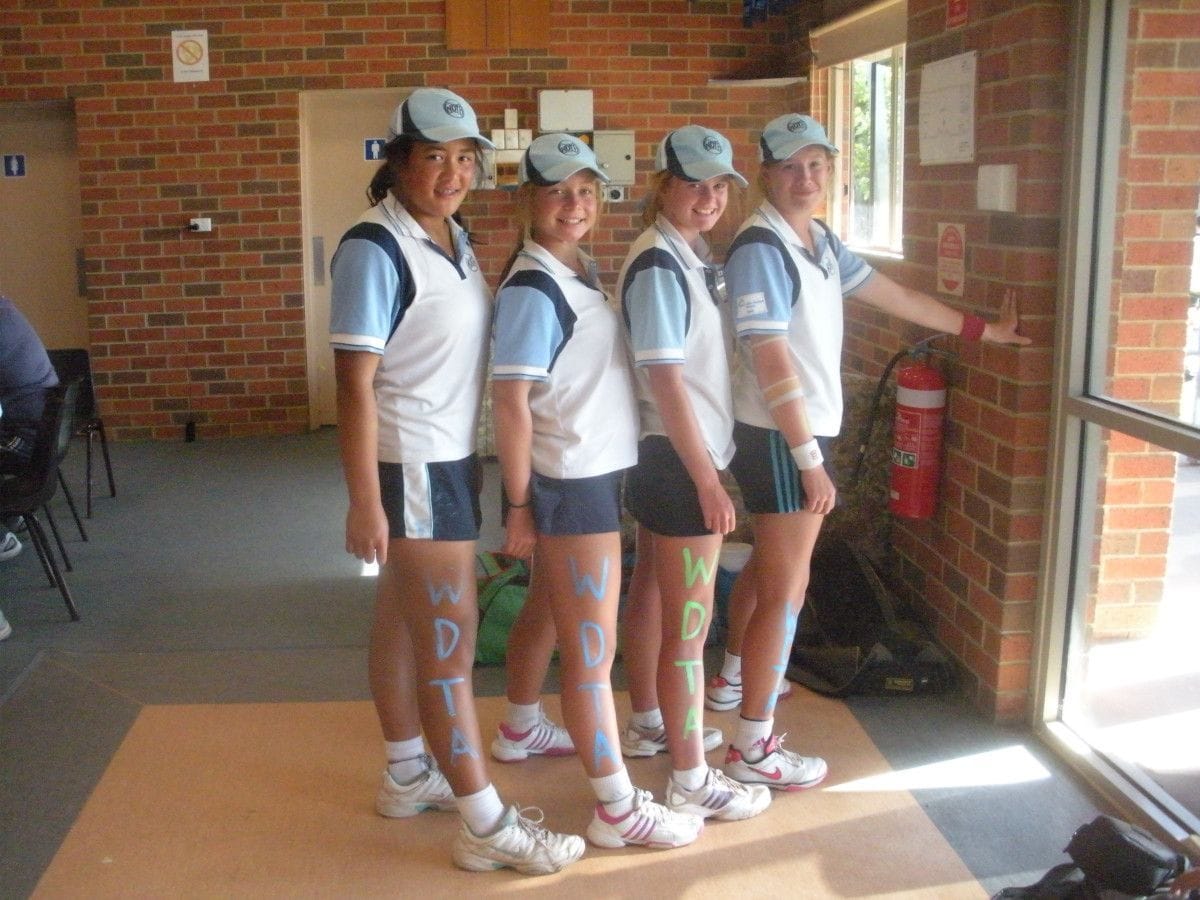 Melanie, Jaide, Kelly and Stacey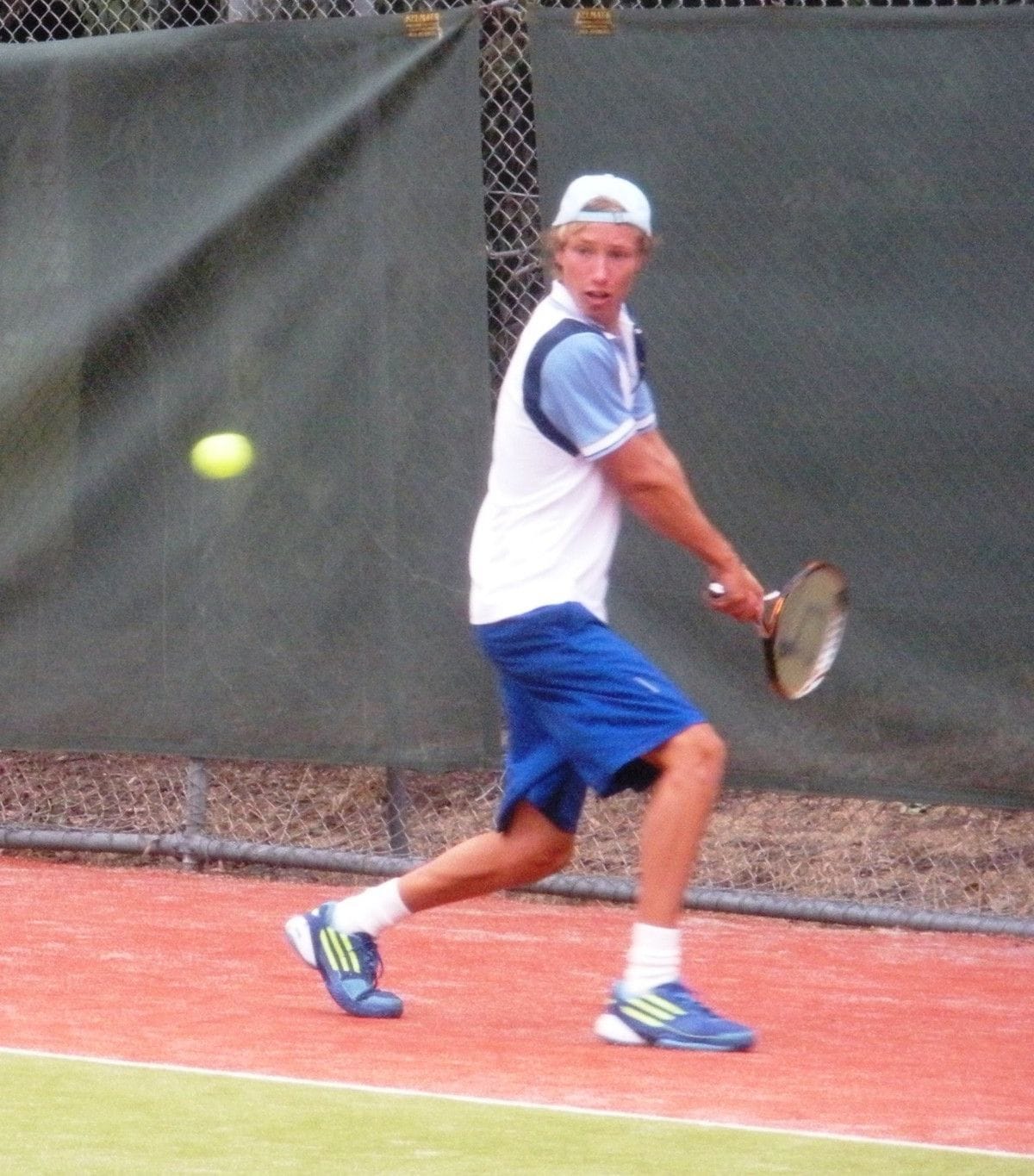 Ryan Draffin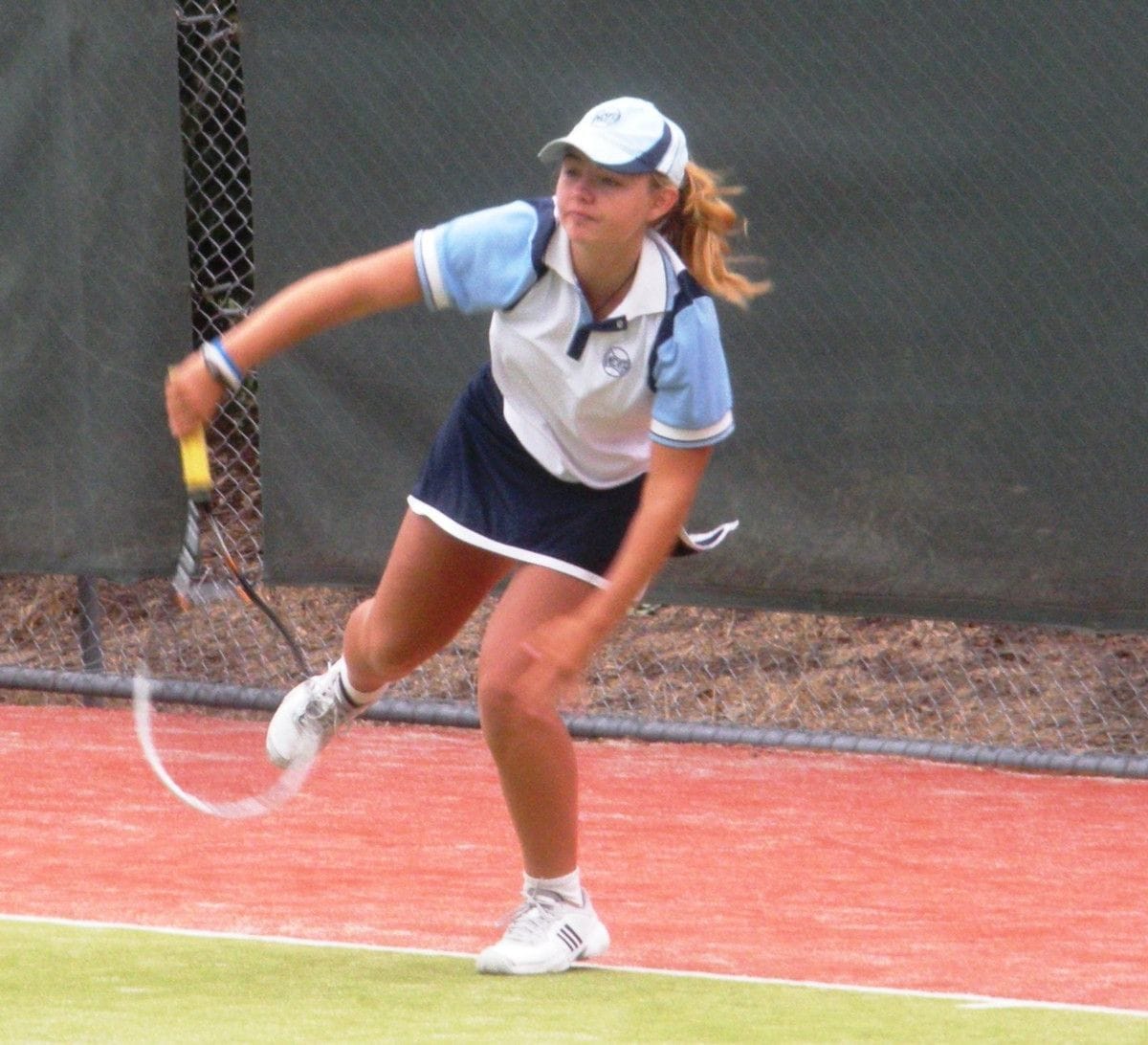 Jaide Collins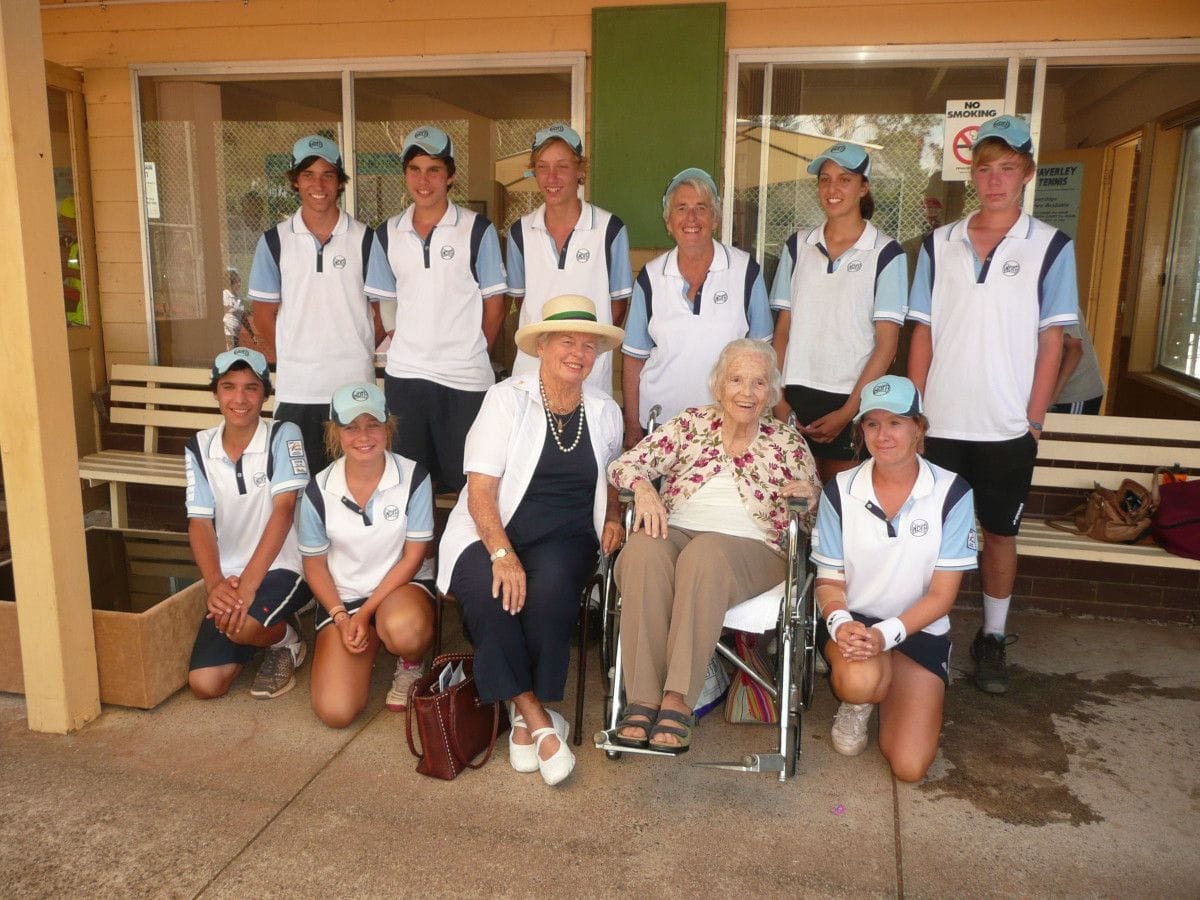 Back: Ben Jones Christopher Wickenton Ryan Draffin Lyn Gillen (Mgr) Madeline Skaras Nathan Ponton
Front: Taylor Petrucci Jayde Viccars Daphne Fancutt Lucy Hopman Stacey Ponton
Absent: Jaide Collins Audrey Teo

Overall Excellence Award for the Event: Ryan Draffin
Waverley Tennis Best Player: Ben Jones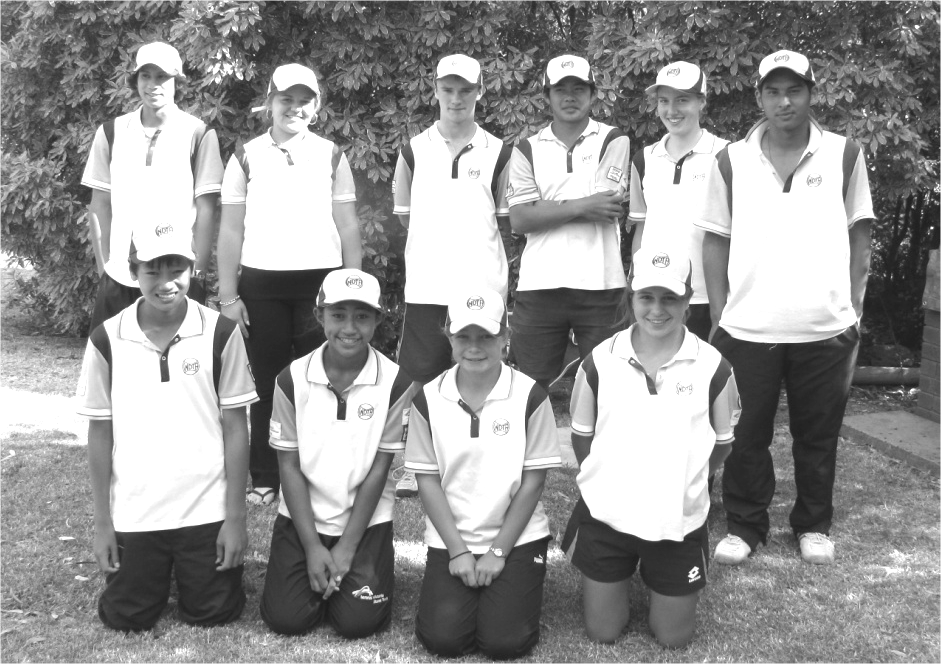 Back: Joshua Tran Natalia Dragojevic Robert Hilbig William Ma Amelia Mills Aaron Tran
Front: Long Nguyen Noelleda Ah San Jayde Viccars Elizabeth Kalyvas

Overall Excellence Award for the Event: Robert Hilbig
Waverley Tennis Best Player: William Ma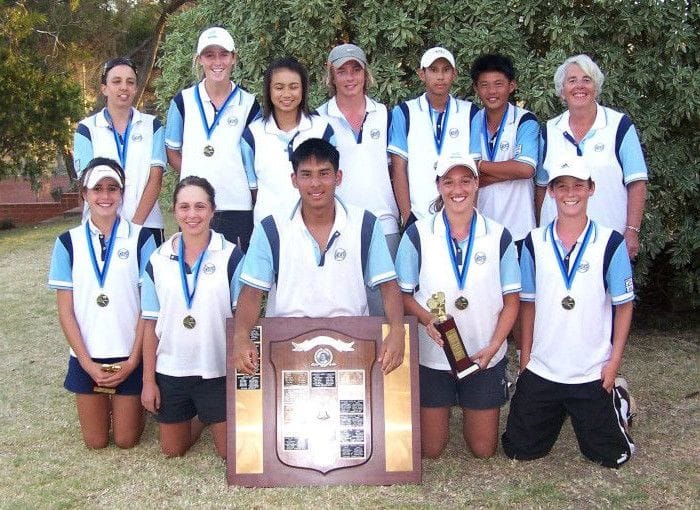 Back: Stephanie Skaras Alana Parnaby Judy Nguyen Jordan Cowling Joshua Tran William Ma
Lyn Gillen (Mgr)
Front: Laura Rabinovich Elizabeth Kalyvas Aaron Tran Renee Tsongas Aaron Addison

Overall Excellence Award for the Event: Renee Tsongas
Waverley Tennis Best Player: Laura Rabinovich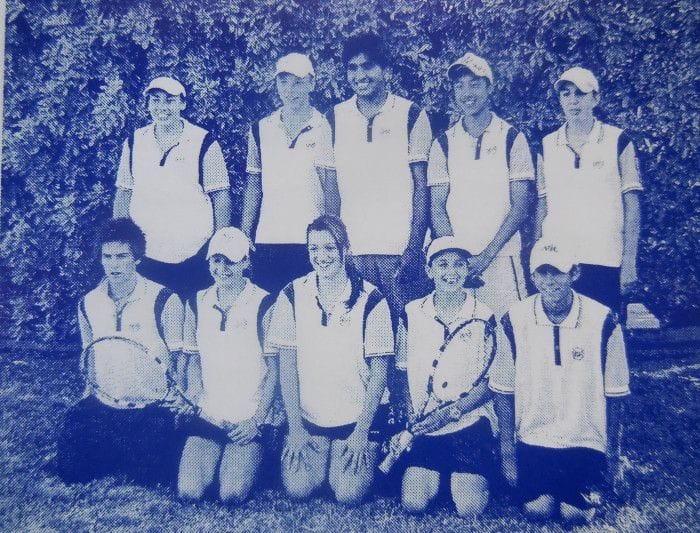 Back: Kate Marshall Michael Ilett Trent Cobb Jason Szeto Stephanie Skaras
Front: Alex Hogan Laura Rabinovich Renee Tsongas Madeline Skaras Joshua Tran
Absent Retired Injured: Jasmina Behlic

Overall Excellence Award for the Event: Stephanie Skaras
Waverley Best Player: Trent Cobb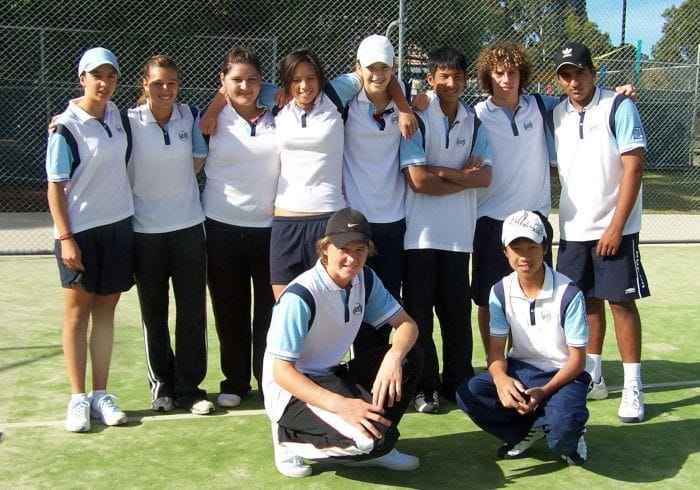 Back: Stephanie Skaras Renee Tsongas Danijela Vukasinovic Rhiannon Watt Monique Stojanovic
Aaron Tran Sam Dowler Trent Cobb
Front: Matthew Nickels Jason Szeto

Best Waverley Player: Jason Szeto

Stephanie Foster Rebecca Vas Jessica Cossari Montana Grenfell Wensi Cai
Kapi Sivakumar Nic Kalisperis Jamie Wagstaff Stephen McKenzie Rodney Eres